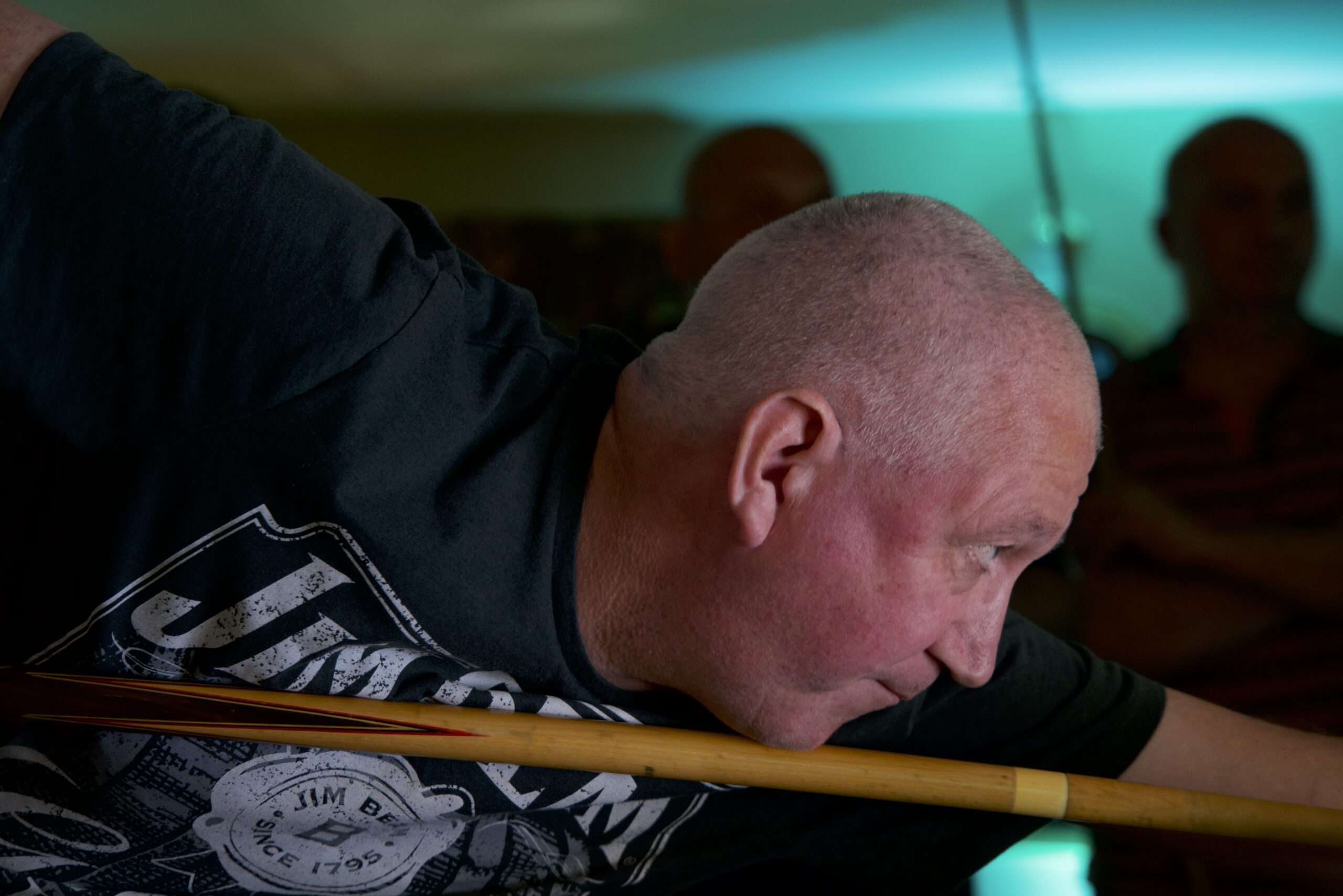 The Jim Wilson Memorial events are considered a flagship for our league. The combination of Mixed Pairs, Jim Wilson Knockout and Jim Wilson Plate tournaments make for a thrilling celebration of Bar Billiards in our league. You do not want to miss this fantastic event – so register now to secure your place!
The event will once again be held at The Cock, Northampton on 30th April 2023. Entry to the main competition is only £8 per player and entry to the Mixed Pairs event is absolutely free!
Entries are now open – please register using the forms below.
Entries So Far
| | | | | |
| --- | --- | --- | --- | --- |
| Entry No. | Name | | Entry No. | Name |
| 1 | Dunc Harris | | 17 | Aidan Coe |
| 2 | Karl Brown | | 18 | Nicole McLean |
| 3 | Stew Greenaway | | 19 | Mick Haynes |
| 4 | Jason Neal | | 20 | Jon Coe |
| 5 | John Tyson | | 21 | Kevin Ayres |
| 6 | Keith Thomson | | 22 | Trish Coates |
| 7 | Simon Coleman | | 23 | Sandy Thomson |
| 8 | Dawn Dunkley | | 24 | Steve Oram |
| 9 | Jim Smith | | | |
| 10 | Andy Chambers | | | |
| 11 | Gary Tipping | | | |
| 12 | Damian Coates | | | |
| 13 | Jim Thomson | | | |
| 14 | Tony Britten | | | |
| 15 | Chas Peel | | | |
| 16 | Stephen Coleman | | | |
| | | | | |
| | | | | |
| | | | | |
| | | | | |
Mixed Pairs Entries
| | | | | | | |
| --- | --- | --- | --- | --- | --- | --- |
| Entry No. | Player 1 Name | Player 2 Name | | Entry No. | Player 1 Name | Player 2 Name |
| 1 | Stew Greenaway | Caitlin Cox | | 7 | Andy Chambers | Trish Coates |
| 2 | Simon Coleman | Michelle Coleman | | 8 | Jim Thomson | Anya Metcalfe |
| 3 | John Tyson | Leanne Tyson | | 9 | Tony Britten | Linda Pamplin |
| 4 | Keith Thomson | Sandy Thomson | | 10 | Aidan Coe | Nicole McLean |
| 5 | Steve Oram | Dawn Dunkley | | | | |
| 6 | Gary Tipping | Karen Tipping | | | | |
Previous Winners
| | | | |
| --- | --- | --- | --- |
| Year | Jim Wilson Champion | | Jim Wilson Plate Winner |
| 1990 | Steve Biggs | | |
| 1991 | Steve Oram | | |
| 1992 | | | |
| 1993 | | | |
| 1994 | | | |
| 1995 | Chris Lawman | | |
| 1996 | Pete Farrelly | | |
| 1997 | Steve Biggs | | |
| 1998 | Andy Chambers | | |
| 1999 | Andy Walker | | |
| 2000 | Steve Oram | | |
| 2001 | Andy Chambers | | |
| 2002 | Chris Lawman | | |
| 2003 | Jason Neal | | |
| 2004 | Chris Lawman | | |
| 2005 | Jason Neal | | |
| 2006 | Andy Chambers | | |
| 2007 | Chris Lawman | | |
| 2008 | Chris Lawman | | Damian Coates |
| 2009 | Jason Neal | | Damian Coates |
| 2010 | Jason Neal | | Roo Hare |
| 2011 | Simon Coleman | | Damian Coates |
| 2012 | Simon Coleman | | Chas Peel |
| 2013 | Simon Coleman | | Lorin Clough |
| 2014 | Ian Street | | Jim Thomson |
| 2015 | Ian Street | | Simon Coleman |
| 2016 | Ian Street | | Lorin Clough |
| 2017 | Stephen Coleman | | Lorin Clough |
| 2018 |  Jim Thomson | | Stevie Anscombe |
| 2019 | Lorin Clough | | Andy Chambers |
| 2022 | Andy Chambers | | Damian Coates |